Client Testimonials
"... may I again take this opportunity to compliment your driver, as I stated he proved to be a great advertisment for your company and nothing was too much trouble for him, and his manner towards children and staff was exemplary. I would have no reservations about using your company in the future..." John O'Conner Project Co-ordinator

More

32 Seat Bus Hire
Croft Coach Hire - 32 Seat Coaches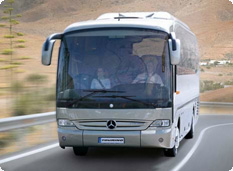 A beautiful coach, spacious and luxurious, brief specifications are listed below.

Our 32 seat coaches provide a medim to large sized party with plenty of space and luxury at affordable prices, and remember our coaches are supplied with a qualified driver who will prove to be reliable and courteous.
Coach Features:
33 HIGHBACK COACH SEATS,
3 POINT LAP & DIAGONAL BELTS
AIR SUSPENSION,
TELMA RETARDER,

POWER DOOR,
AUTO GEARBOX,
LUGGAGE RACKS,
READING LIGHTS,
FORCED AIR VENTILATION,
PURMO HEATING,
DOUBLE GLAZING
TINTED GLASS
ARM RESTS
CURTAINS AND BOOT
Contact Croft Coaches by filling out the quick quote form opposite for a speedy response, alternatively if you have additional requirements or need to advise us of any special requirements use the form on our enquiries page.

If you prefer to contact us using email or telephone our details are shown at the top of this page.

Let Croft Coaches take the strain – The UKs' Premier Coach Service


Copyright © Croft Coaches.com, All rights reserved.